Travel with a wheelchair in Guadeloupe
---
Accessible sites in Guadeloupe
We offer you an interactive map which lists the sites, activities, restaurants, beaches, waterfalls, etc. accessible in Guadeloupe... without forgetting the toilets.
Enlarge it by clicking on the full screen icon, then click on the pictograms for details and geolocation. You will surely need an adapted car in Guadeloupe.
To properly prepare for your trip, get the Tetra Trip guide "Guadeloupe in a wheelchair" recommended below.



Adapted car
With a ramp for the transport of people in wheelchairs, or in driving adapted for drivers... of vehicles from private to private.
See website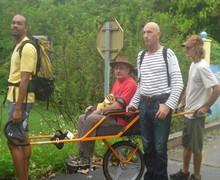 Trekking for disabled
Martine, a mid-mountain guide, and her team of volunteers take you to the rainforest in a joelette.

The "Tetra Trip" guide
Released in 2019, this guide lists in detail all the accessible sites, tips and tricks. To download in E-book or to order in paper version.